An unique program permanently downloading mining
Protection against detection:
Warning! The program contains mechanisms of protection against detection, for this is qualified by some antiviruses as potentially dangerous! We recommend installing the program on a virtual machine, completely separating it from the computer with the client of the poker room. Either the program and its modules can be added to the exceptions.
Description:
The most painful thing in mining usage is a downloading procedure:
Waiting until an e-mail arrives in the inbox.
Waiting until an archive is being downloaded.
Extracting files and importing them into a directory.

Same story each day... The whole process may take an hour or even more.

We have developed a program fully automatizing the listed stages. You will simply need to run and custom the program. The program is iconified (system tray) and does not hinder the work at all. When necessary, it will download, export and copy files into your statistics collecting program auto-import directory (Holdem Manager 1/2, PokerTracker, Poker Office).

Some sites do have a similar software already, that is why we have decided to go forth. Namely, we have worked out a scheme of interworking with our mining base which enables hand history report every 5 min. As a result you are obtaining the following benefits:
Automatic mining downloading according to a schedule.
The freshest information on competitors before and directly during the game.
Advanced import due to splitting big files into several parts (at user's desire).
Possibility to choose subscription downloading start date.
Visual control of subscription status, notification system for process finishing.
Low system requirements and high working speed.
Automatic update.
Easy intuitive interface.
Usage:
Some poker clients can keep track of different software usage on your computer, placing it to the ban-list anytime for any reason. When developing new versions of our software, we do our best to take this feature of poker clients into consideration. In case of any sanctions by poker rooms, we notify our clients if possible.

We can't and don't give any guarantees regarding our software usage. You run it on your own risk. If you decide to use our software prior / during / after the game, than it is desirable to launch it through a virtual machine (Vmware)! Or, you can run our program in parallel on another PC, interacting with the base and HUD via LAN. If you've decided to use our software on the very same computer, where the poker client is installed, you should learn desired poker room's rules with caution.
Main window: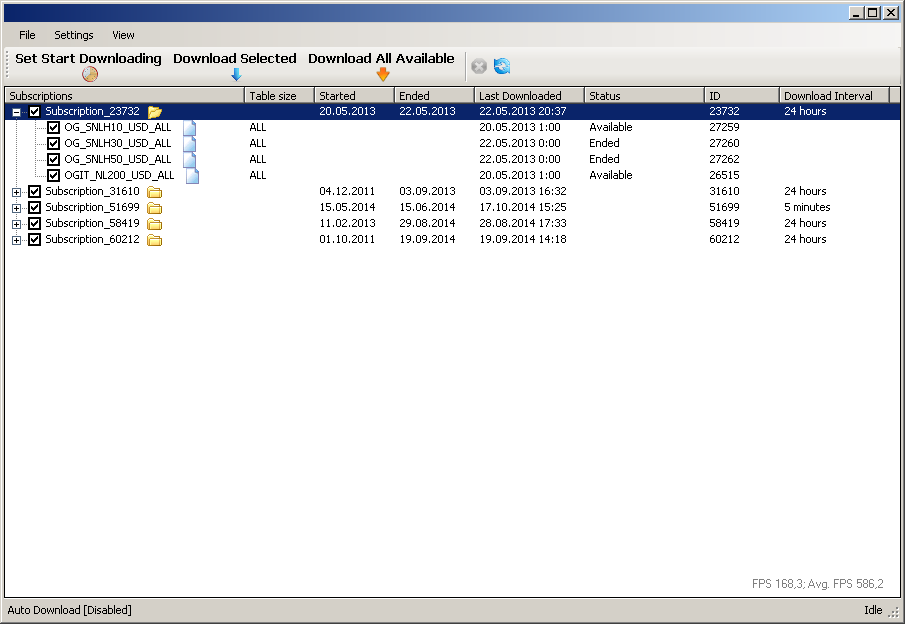 Navigation buttons:

Set Last Downloaded time of selected Subscription.

Download all available games in the selected subscription starting from the moment of the last download.

Download all available games in all subscriptions starting from the moment of the last download.

Stop current process.

Update subscription list.
Subscription parameters:

Enable / disable download of a selected subscription or game. Works with Auto Download.
Subscription
: Subscription name containing the list of games.
A name of the game is compiled in the following way: NETWORK_BUY-IN_CURRENCY_NUMBER_OF_PLAYERS.
Started
: Subscription start date.
Ended
:Subscription finish date.
Game parameters:
Last Download
: Date of the last download. Changes automatically in process and after downloading a specific game.
Attention! With Set Last Downloaded click you can change this value, for instance put a download start date and download all hands again.
This operation is limited to 10 times.
Status
: Current game status:
Available: Download is available.
Active: The game is active but hands download is not yet available (not enough time might have passed from the time of the last download, or the hands might have not been uploaded to the server).
Ended: Validity term is expired and all hands are downloaded.
Disabled: Disabled.
ID
: Internal identification number.
Automatic hands download: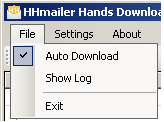 Enable / disable automatic hands download. The next download time is shown in status bar.
Settings window: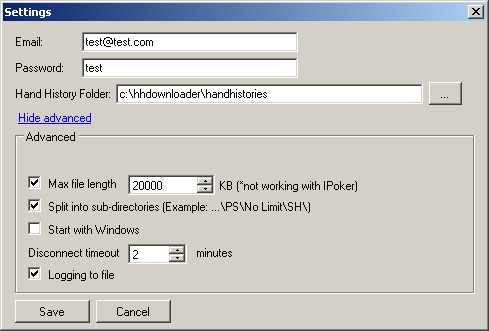 Email
: Email specified when signing up for a subscription.
Password
: Your password. (from natification email)
Hand History Folder
: Path to auto-directory import specified in statistics collecting program (HM1/2, PT3,...).
Show/Hide advanced
: Show / hide additional settings.
Max file length (KB)
: Limit file length by a value in kilobites. Not applicable for iPoker network.
Split into sub-dirrectories
: Create sub-directories when downloading files.
(path_auto_import\network\limit\number_of_players\file_name).
Attention! In statistics collecting program an option 'download from sub-directories' should be enabled.
Start with Windows
:Automatic program start when Windows starts.
Setup:
Uninstall / delete all previous versions and files
Download the file start.exe
Run start.exe
Attention! Microsoft Windows XP/7/8/10 and .NET Framework 2.0 (or older) package is required for program functioning.
Please install when notified.
During the first launch a Settings window will be shown.


-->